I mentioned a few weeks ago that

May and early June are going to be really busy for me

with my hubby away, a "limited screen-time" family vacation, and preparing for the Trained Professional Organizer exam.
I asked a few of my fellow organizing bloggers to guest post so I won't be completely overwhelmed and you can still benefit from some great organizing tips! I'm so happy to be able to introduce these friends of mine to you. Please make them feel welcome here :)
Here's a guest post from my friend Morgan!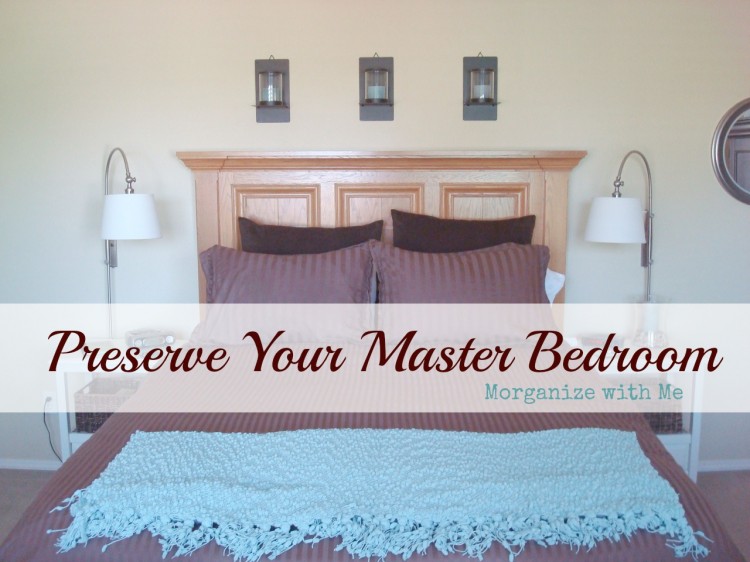 Hello fellow organizer enthusiasts! I'm going to be chatting with you about something that I am very passionate about, even though I don't have the best follow through in this area. There I said it.
I'm talking about making your main bedroom a restful nook, a place that is designed for just you and your partner, a room that says "adults come here to relax and recharge." I've read that the main bedroom should be considered the most important room in the home. That this room can set the tone for everything else that happens within your abode. And even though I know this, I still tend to ignore this fact and don't keep this room protected from the outside chaos.
Our bedroom can tend to exude messes and piles, versus peace, order, and dare I say...romance? I mean a vacuum cleaner, baskets of clean laundry and school papers that need to be filed, just don't advertise harmonious.
So what can be done to make your main bedroom a serene, quiet retreat? How can you protect this room and help it to breath a vibrant and healthy tone into the rest of your home?
7 Tips to Preserve your Main Bedroom
1. Keep the Focus on your Relationship.
Decorate with pictures of you as a couple and use the room to tell
your
story.
2. Make it a Toy-Free Zone.
Protect your space by keeping it an adult-only zone, all of the kid's toys need to find another home.
3. Move the Projects OUT.
NO laundry, bills, work, home improvement, schoolwork, housework etc. should be allowed.
4. Invest in Quality Bedding.
Go ahead and buy the good sheets, after all you will spend about 1/3 of your life sleeping!
5. Clear Out the Clutter.
Your nightstand should be sparse. Limit electronics (tv, computer, phones), piles of books and other items that can tend to collect.
6. Add Relaxing Elements.
Consider using a noise maker, displaying candles or changing your lighting options to design a more relaxed environment.
7. Sleep on a Schedule.
Stop using electronics an hour before bed, try to go to bed at a similar time every night and also wake up at a similar time each morning. This routine will help you to keep your bedroom clean and orderly, whilee also taking good care of your health.
So are we going to take these steps and help to transform our rooms into retreats? Let's make a pact that we will work to redefine our bedrooms and safe guard them from the outside chaos. If you already have a handle on this room, I am giving you a big high-five! Carry on sister!
Morgan is the energetic and motivated, but also realistic girl, behind Morganize with Me. Her mission is to share tried and true techniques that she hopes will encourage her readers and clients as they focus on their health and homes. She specializes in Personal Organizing and Personal Training via her Virtual Consulting Services.
Join Morgan as she attempts to control the chaos!
Thanks so much for guest posting Morgan! These are great main bedroom organizing tips! I need to apply them in my home... our bedroom can be a dumping ground.
Happy organizing!
I link up at
these
great parties - Check them out!